| | |
| --- | --- |
| | This page was last edited 09/16/05 |
MAKE NO ASSUMPTIONS!
Electricity may 'seem' to be OK but you can rest assured that it is not what it 'seems'. The electrical hookup available to you may or may not be up to the task. Your electrical needs for the motor home or other camping vehicle can range from lighting a light bulb to running a microwave, air conditioner, and/or refrigerator. Modern RVs have television, VCR and other electronic needs that must be met to operate correctly. With hopes that the wiring in the campground was at least done correctly as far as polarity goes, the electrical service may still be weak. Low voltage is something that can be a real problem. A simple voltage meter for less than $20 plugged into the RVs 110 volt outlet in a clearly visible location can help you 'see' that the voltage is sufficient. Surge and brownout protectors are available to help monitor the electrical current entering your RV.
Your RV has an electrical service system built into it. Most larger motorhomes, motorhomes with two or more A/C units, etc. have a 50 AMP 110 volt service. RVs with less requirements, i.e. one A/C unit or less generally have 30 AMP 110 volt service. And the basic units have a 15 or 20 AMP service. Each RV unit should have a manual with information as to exactly what you can operate on the available amperage. For instance our RV has 50 AMP service and if that is available from the campground we can operate any of the accessories in the RV. If the campground we are in only has 30 AMP service available then we can only operate one of the A/C units. If only 15 or 20 AMP service is available then it is not recommended to operate such high usage equipment as the A/C. Ample Power has some information available on low voltage charging systems.
Your RV is the only reality when it's what you and your family are depending on and you're 'camping' out in a remote location (anyplace but your driveway or your dealer). Like many parts of your RV, you should familiarize yourself with your RV electrical system. Electrical breakdowns are uncomfortable to say the least. Many items in the the RV are controlled by electricity, operate on electricity, or otherwise depend on it in some way. This is where reading the manuals that the manufacturer and dealer have provided will become a lifesaver. At 1 AM when you discover the furnace isn't working, you'll want to know what's happening.
Taken in proper order... there is a way to help prevent problems that you don't want.
Circuits: You should know what your circuits contain. Much like your home there are several circuits, each protected by a breaker (or a fuse), in your RV. Make a list of what each circuit provides power to. This may be easier than it looks if you use the circuit diagrams that the manufacturer provides. These may be in your RV or your dealer may be able to provide them to you. It is also simple to turn off each breaker and then see what doesn't work anymore.
Breakers: You should know where the circuit breakers are located for the main RV panel. Each plug in the kitchen/bath area will probably be a 'ground fault' plug. You'll need to know that there is a 'test' button in the center of the plug and a 'circuit breaker' there also that needs to be reset. When you plug the RV into electricity you may well throw those breakers.
Capacity: What does each appliance in your RV draw in amps, watts, etc. This becomes important when you plug in the toaster and turn on the microwave and wonder what happened when the power goes off. Or you've got the space heater plugged into the same circuit the toaster is on.
Appliances: Read the documentation on each major appliance that your RV has. If you don't understand it then have someone that does explain it to you. Valuable information to look for are such things as additional circuit components that are relative to the appliance and not in the main RV circuits. The current models of furnaces have an electronic starter to ignite the gas. There is probably going to be a protective circuit for the furnace including a circuit breaker and an off/on switch (look outside in the access panel). The refrigerator (most are gas/electric) has a 12 volt circuit to monitor the system since it won't have 110 volt all the time (again... check the access panel). You'll need to know if there is a circuit breaker/switch here to watch for. The sensors in the system will shut them down also if there is exceptional dirt or clogging in the system.
Plugging in your RV: To save yourself from unwanted problems a few simple things can be done with electrical needs. When you are starting up your electrical system (generator or plugging into campground service) you should turn off all your electrical appliances. Don't plug in the service or start the generator 'under load'. The reason for this is simple. When an appliance starts it is going to use considerably more power than it will once it is running. This in itself may well be enough to 'blow' a breaker. Why give it the opportunity? Once the generator is started and warmed up, or the campground service is plugged in and the breaker on the campground service post is turned on... then you can start up your appliances. Reverse this when you're disconnecting. If you're turning off your genset then turn off the appliances and let it run for a few minutes to cool down and then shut off the unit.
Electrical service in campgrounds varies. Since this is a serious issue, most RV campground listings include information about the electrical service available. I've given examples of adapters, power cords, monitors/protection, and alternative power sources, and even wind energy.
Where do you get these accessories? The front line provider is always your RV dealer that sold you the unit. The dealer can help you with the needs of your particular unit. Discount stores, internet stores, and mail order catalogs are always available also. Camping World (www.campingworld.com) is an excellent source of RV supplies. If the term RV isn't stuck on it the price may well be a little better. Power cords come in all flavors and don't need RV on the box they come in to work for you!
And what did Roy and Carol do about their power needs?
It should be noted that the plugs you use are designed for specific applications. The plugs that are 50 AMP (found on newer/larger RVs) are NEMA rated 14-50P (plug) and plug into a 14-50R (receptacle). The 30 AMP plug combination does not combine with the 50 AMP plug. The 30 AMP is a standard (ANSI C73.13) or NEMA TT-30P (plug) / TT-30R (receptacle).
30 AMP
SERVICE
PLUG and RECEPTACLE
ANSI STD. C73.13
TT-30P
ANSI STD. C73.13
TT-30R
50 AMP
SERVICE
PLUG and RECEPTACLE
14-50P
14-50R
| | | |
| --- | --- | --- |
| | | This is the 50 AMP male plug you'll find on many of the new RVs on the left. You'll need a 50 AMP service connection or you will need to reduce this to 30 AMP or 15/20 AMP with an adapter listed below. On the right is a 30 AMP male plug found on many RVs that have only 1 A/C Unit and do not require as much service. A 30 AMP to 15/20 AMP reducer is available below. |
| | |
| --- | --- |
| A 50 AMP Female to 30 AMP Male is an absolute necessity. Like the 'DogBone Adapter' here, it modifies the 50 AMP plug to a 30 AMP plug. I-35 RV was kind enough to include one in the start-up kit they furnished. | |
| | |
| --- | --- |
| | And from the 30 AMP plug you may need to further reduce it to a 15/20 amp plug. A simple adapter like this one reduces the 30 AMP plug to a more standard 15/20 amp 110 volt plug like you have at home. They cost a minimal amount, are a necessity and in our case was furnished by the dealer. |
| | |
| --- | --- |
| Dog Bone Adapter lets you hook up to 15 amp outlets. 30F to 15M, rated at 15 amps. USA This adapter, like the 50 AMP Female to 30 AMP Male is an absolute necessity in some form, either dogbone or the smaller one above. I-35 RV was kind enough to include a 30 AMP to 15 AMP adapter in the start-up kit. | |
Extend a full-size cord to the farthest receptacle with a 25' Extra Heavy-duty 30 amp Power Card. Weatherproof jacket encloses 10 gauge, 3 wire cord for safe, free-flowing AC power. Molded plug and socket. USA

This cord costs around $25. This is the type of power cord that you need to insure safe operation of your A/C units when plugged into 30 AMP service. The 50 AMP power cord your RV comes with is even heavier cable w/ 6 gauge wire.

Extra Heavy-Duty Power Cord - 25ft
| | |
| --- | --- |
| Extra Heavy-duty 50 amp Power Cord provides power to spare. Three insulated 6-gauge copper conductors and one insulated 8-gauge copper conductor are enclosed in a weatherproof outer jacket that resists oil, grease and ozone. Won't crack or become brittle and remains flexible below freezing temperatures. 50 amp right angle plug and socket connectors with four-prong, straight-blade configuration. 30 ft. long. Jacket rated at 600V. 50 amp/125V/250V. USA. | |
| | Extra Heavy-duty 50 amp Power Cord |
If your going to run the full 50 AMP service and expect to be some distance from the source you'll need this. Otherwise I would suggest that you not purchase one. These are expensive at $150 or so and generally speaking the power cord with the unit should get you to the 50 AMP service in a modern park. If the service is that far away then you might want to repark your RV.
| | |
| --- | --- |
| | 100% copper 15 amp 10/3 Power Cords are made to stay cool under heavy loads. Heavy-duty 10/3 Power Cords builds up less resistance than smaller cords, for a cooler, safer cord that lasts longer. Insulated cold weather jacket keeps cord flexible down to -40oF to prevent cracking. 125V. USA. |
This is a basic necessity also in my opinion. This cable allows you to use the 15 AMP service for your RV if that is all that is available. It was not designed to run A/C units. It is designed for getting electricity to your unit over an extended distance safely, not run big appliances. The cost for a 25 ft is about $30 and the 50 ft is about $50. Discount stores also carry this type of cord. It doesn't have to say 'RV' on the package for it to do the same thing. Just get the 10/3 power cord that has the weatherproof jacket on it.
| | |
| --- | --- |
| | For less than $20 you can purchase this essential meter and have your finger directly on the electrical service that your unit is plugged into. It gives you a reading on the voltage that the unit is receiving from the campground electrical service. Simply, on this one, if you're in the green, you're OK. I consider it essential... a good investment. Low voltage can damage A/C units, microwaves, TVs and other such electrical items... as well can too much voltage. Check the unit when you get it to make sure that it is reading correctly. Not all of this type of unit are good from the factory. More expensive digital units are also available. |
| Volt-A-Check II tells AC voltage levels. Plugs into standard AC outlet. Reads from 96-134 volts. 2 5/16 x 2 5/16 x 2 1/4. USA | |
| | |
| --- | --- |
| Save electrical equipment from damage by testing voltage, frequency and polarity with the Good Governor. This AC line tester plugs directly into your outlet, and the easy-to-read LED indicator lamps and digital display let you know if voltage is high or low or if the outlet is wired correctly. Helps to diagnose wiring problems. On hot days at a campground, make sure the voltage is sufficient to run your air conditioner, since low voltage can cause overheating and damage the compressor. Use the Good Governor to check generator performance to determine if the generator is running at the correct rpm and/or needs service. Prevent damage to appliances and electronic equipment by testing polarity before you plug in an accessory and turn it on. Max. AC voltage 180, min. 60. Max. frequency 90 Hz, min. 30 Hz. | |
| | Good Governor |
This is an expensive version of the power monitor, although it gives you more information. It costs nearly a $100 bill and is definitely the 'nice one'.

| | |
| --- | --- |
| | Combine the protection of ground fault detection with spike and surge protection with the RV Electronics GFI+ Surge Suppressor. Senses power surges, spikes or voltage leakage from worn, pinched or improperly connected wiring and shuts off power in 1/40th of a second, offering your RV triple mode protection. Easy-to-see green LED indicator light tells you power is going to RV. Won't trip when power is lost. Can be mounted permanently in RV (screws included). Place between generator and coach electrical system or between park power source and coach. Weather-resistant, high impact plastic box holds the mechanical ground fault test and reset switches. Weatherproof cord connections minimize risk of water damage to the unit. USA. |
| GFI+ Surge Suppressor | |
This unit has a cost of around $90. It is probably more than the 'average' RVer will purchase. I personally consider it a very valuable asset and it should at least be one of those things you consider when you're buying the 'extras' that you'll want. This type of unit is excellent protection for your unit. It is a 'plug in' type unit that is portable.
| | |
| --- | --- |
| Keep your RV's appliances and electronics from being damaged or destroyed by power surges and brown-outs with an RV Electronics Power Line Monitor. Shuts off power surges at a maximum 130 volts in 1/4 of a second and too-low power at 103 volts in 3 1/2 seconds. At 208 volts (per line), the PLM starts to absorb any surge your RV may experience, clamping the surge at 340 volts (per line). Safety tested at 1500 volts. Monitors power to your RV at a minimum of 70 volts. 5 minute recycle delay allows changing voltages and compressor cycles (air conditioner and refrigerator) to stabilize before automatically restoring power. LED power status indicators. Use between generator and coach power system or between coach and park power outlet. USA. | |
| Another portable power monitor... It's cost is around $250 to $425 depending on amperage. | Portable Power Line Monitor - 30 amp or 50 amp available |
| | |
| --- | --- |
| | |
| Built-in-Power Monitor - 30 Amp | Built-in-Power Monitor - 50 Amp |
Built-in Power Line Monitor by RV Electronics automatically guards your RV appliances against high and low voltage and power surges and spikes. Fully automatic Monitor gives your RV's electrical system constant protection from too high or too low voltage by disconnecting damaging electricity before it gets to your RV, then turns it back on when voltage stabilizes. Shuts off power at 103 volts (low) and 130 volts (high). Turns power back on when voltage returns to 110-129 volts. Works with park power or generator. No reset button to push. Installs inside coach or storage bay. Metal case. Max. input: 300 volts, min. 65. Includes remote indicator light panel and wiring. Absorbs surges up to 210 joules. USA
This is the way to go for the serious RVer who doesn't want to worry about any electrical input into the vehicle. The cost $250 to $400 depending on the unit your rig needs plus installation. It installs permanently inside the vehicle.
A generator (genset) is most often included in a motorhome. Not so commonly included are generators in fifth-wheels or travel trailers. A portable generator can be a handy item when you're out using a pop-up or a tent. Power requirements will vary but most most motorhomes have a generator that will handle the accessories installed on the motorhome.
Considerations must be given to things such as the starting power requirements for an air conditioner, microwave and other electronic gear. Your biggest draw will be the A/C and microwave. Very popular sizes include the 4000 watt generator which will generally run a single A/C unit effectively. If you have two A/Cs then you'd best have something more in the 7000 watt level. A microwave will draw some 1500 watts and will put a strain on your system. If you're using electric hair dryers or an electric frying pan you could well be asking your generator to do the impossible. Honda, Kawasaki, Generac, and Yamaha have several portable units that start at 700 watts and go up. These are quite effective for a small campsite with minimal requirements. Coleman has a new Powermate 1850 that is also quite an effective unit. Units under 2000 watts can be very compact and efficient for lights, recharging batteries and other small electrical appliances.
Consideration should also be given to noise levels. Being quiet seems to be an expensive option. Along with the noise level comes forest service and park service requirements to have a 'spark arrestor' on the unit to prevent forest fires. A permanently mounted generator in your motorhome or camper will 'transmit' noise throughout the unit if not properly mounted. Such a unit must be properly vented not only for proper exhaust gases but for the necessary intake requirements. You'll also have to have a viable gas, diesel, or LP source for the generator depending on the type of unit you've decided on. Again... in a motorhome these things are normally taken care of for you. If your adding a genset to your TT or fifth-wheel you'll have to make sure that they are taken care of. You may not be able to use one of the noisy units in the quiet campground setting that you're in. There is also a quiet time in most campgrounds and you can translate that to 'turn off the generator'.
As a starter you can use the below items as a guide for your generator requirements list... the products you use will be your final determining factor and should have power usage information either on them or on the information pamphlet.
A/C (2500 watts)
Microwave (1500 watts)
AM/FM Radio (200 watts)
Anchor Winch (1200 watts)
Broiler (1400 watts)
CB Radio (50 watts)
Heater (Radiant) (1300 watts)
Hot Plate (1250 watts)
Outdoor Lighting (750 watts)
Personal Computer (2000 watts)
Refrigerator/Freezer (800 watts)
Small Water Pump (1000 watts)
Television (300 watts)
Toaster (1700 watts)

I'll cover some basics as I get the time...
| | |
| --- | --- |
| | Harness the free power from the sun to meet your RV energy needs. Freedom Line Charging Systems convert light energy from the sun into DC electricity to charge your batteries. Power everything from fluorescent lights to a microwave oven. Hook up several for greater output. All panels come complete with 25' of wiring, mounting hardware and connectors. USA. |
These solar panels are definitely high end. The cost to install a single panel is around $600 plus labor to install. In my opinion two panels are essential for proper operation and ample power bumping the price to around $1000 for parts alone. Combined with the appropriate inverter you can safely 'boondock' without worrying about power needs in most cases. They do not provide enough power to run A/C units but do handle the basics quite well. For the smaller RV there are units that cost as little as $125 or so and they will charge a battery. Designed for the weekend camper they are a minimal setup.
| | |
| --- | --- |
| Get 200 watts of continuous AC power! Compact Inverter produces 500 watts surge power. 300 watts for five minutes and 200 continuous watts. Solid state circuitry for dependability. Sounds alarm and shuts down automatically when battery runs low. Draws less than .15 amp under no-load conditions. Modified sine wave and frequency controlled for no-interference use. Aluminum case. 1 1/2"H x 4 1/2"W x 6"L. Mfr. 18 month warranty. | |
| | StatPower PROwatt 250 Power Inverter |
This is typical of the simplest of units that plugs into a 12 volt power outlet and provides minimal power. It can be used to run very small electrical appliances. Shaving, watching a really small TV, and other such stuff is OK but don't plan on running the microwave on it!
Get 120V AC power without hooking up or running your generator. Heart Interface Freedom Inverter/Chargers wire into your 12V DC battery system. Each has a built-in battery charger, automatic transfer switch, voltage/frequency regulators and low battery, overheat and overload protection. Calculate the highest total wattage needed at once and choose the closest wattage Inverter/Charger with a greater output. 1000, 2000 and 2500 watt models are UL and CUL listed and remote monitor capable (sold separately). Powder coated aluminum and stainless steel construction. Mfr. 30 month warranty. 12" x 11 1/2" x 8 3/4".

Heart is one of the top brands in the inverter industry. This unit costs around $1300 for the 2500 watt unit, plus installation and is definitely a nice one.

Heart Interface Inverter/Charger
2500 watt
The inverter mode of the PROsine 2.5 Inverter/Charger provides true sine wave 120-volt AC to efficiently power your sophisticated electronic and electrical equipment. Operates at peak performance without noticeable audio buzzing or visible lines on your video equipment that modified sine waves cause. The 100 amp charge rate delivers ripple-free power to your battery for faster, more efficient charging.

Provides 2500W of continuous power with a surge power of 4000W. Peak output is 50 amps. Motors run cooler, quieter, with minimal harmonic distortion, and may lengthen the life of your equipment. PROsine delivers power that's often cleaner than power supplied by your local electric utility, with no spikes or fluctuations. Built-in automatic overload, short circuit, overheating and reverse-polarity protection. Includes a remote panel featuring LED readouts and easy-touch switches for status monitoring and systems control. UL/CSA approved

This is definitely a state-of-the-art inverter and costs nearly $2500 plus installation. For the serious RVer this unit will power your RV off the DC battery supply. In my opinion it is a nice one to combine with the solar panels above for a real 'boondocker' of an RV!

PROsine 2.5 Inverter/Charger
| | |
| --- | --- |
| | And here's something above and beyond... it is a Square D R.V. Power Outlet. More particularly it is catalog no. PAK75CTG with a product code of 47730. It is a Series E2 rainproof type 3R enclosure. If you keep your RV at home and want to hook it up to the appropriate power while at home, this is the type of power box you'll need. This one contains one 20 AMP 125V AC duplex receptacle, one 30 AMP 125V AC travel trailer receptacle and one 50 AMP 125/250V AC receptacle. It requires one heck of a heavy cable, 6 gauge wire is appropriate, although 8 gauge would probably do it. I have 6 gauge wire run out to the box so that I can plug in at home! For the record this one is expensive. Retail is around $400 and you'll have to get it installed by a competent electrician. There are smaller units with a single plug that would be appropriate for your RV. They are obviously cheaper. I bought one of these and used the heavy wiring that my electric welder already had installed to it... for the RV box. No extra wiring run was needed. This setup is the most versatile, and the most expensive way to go. |
There are numerous single boxes available. You can go to Home Depot and get a 30 AMP, 125 volt, 2 pole, 3-wire grounding trailer receptacle (sku 127-436 at Home Depot and reported to be stock #032664307003). Less than $10?

Wiring that RV plug must be done correctly for safety. Check out the Leviton site for wiring info. Go to the tech support area and you'll find all kinds of info. Here is the diagram for the 50 AMP 14-50R plug (125/250V 3-Pole 4 Wire Grounding) that is commonly used for RVs.

<HERE>

I use this port to route a wire through the side of my house for easier connections from the RV. The same port is often used to route wiring and plumbing through the bottom/side of your RV so that the doors can be closed. Viking Marine, 1630 W Cowles, Long Beach, CA 90813 available at most the the RV service centers/suppliers that I have dealt with and comes in black or white as far as I know.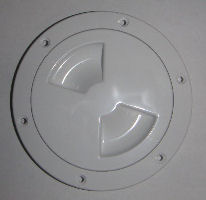 Notes, Hints, and other stuff:

Questionable electrical power? Make sure that your connections are clean and solid. The plugs should be cleaned with a contact cleaner (aerosol can), emery cloth, and/or a nail file. This will not only brighten up your electrical contacts but will make them work better. Voltage drop occurs with dirty connections.

Cord hot? Is your cord the correct size for the distance and power that you are asking it to carry? You must have a cord that is sufficient in size for your needs. Runs over 100 feet are not desirable. 25 ft. extension cords should be of sufficient size to get your job done. A 25 ft. extension cord added to the 25 ft. that usually comes attached to your RV is plenty to ask of your electricity. (A 50 amp cord will probably be three no. 6 wires and one no. 8 wire. A 30 amp will probably be three no. 10 wires.) If you're just running in a 20 amp cord to power the basics (no air, etc.) then you can run a 12/3 to get the job done. Check your voltage drop at this location. <CLICK HERE>

Enough power? Check your service at the box in the RV campground you're staying at and then check it inside your unit. Do you have a problem? Do they have a problem?

Here's an interesting angle on the power situation. Wind energy has been used for a long time. Is it a good one for your RVing? I personally think it'll be a better deal for a more permanent setting rather than a traveling RV. Here's a web page to give you some info on it.

<CLICK HERE>

My electrical needs will most probably range on the heavy side compared to the average RVer. I have a strong tendency to put little 'goodies' in the RV that need electrical service. My hobby is home theatre so you can well imagine that my heart is broken having to watch the relatively minimal system in the RV!

I have purchased the Good Governor listed above since I'm into this type of thing a little more than average. The accuracy of the unit is highly desirable for me. We have also purchased a 25' 30 AMP extension cord and a 30' 50 AMP extension cord. For those cases when we need power but the nearest is some distance away I've also purchased a weatherproof 100' 12/3 extension cord. This cord should be able to maintain the 15 AMP rating over its' length. I do not intend to run the A/C units on it. It is a must for those rare cases when a little power is needed to recharge the batteries, light up a few lights, run the microwave, and perhaps a TV. I also purchased a cord reel for $5.50 that will make handling that long cord a lot easier.

We have the 'standard' bevy of adapters, including the 50 AMP to 30 AMP dogbone and 30 AMP to 15 AMP adapter plug listed above and a 50 AMP to 15 AMP adapter plug.

I plan to purchase a 50 AMP permanently mounted surge/brownout protector such as the 'Built-in Power Line Monitor' listed above. I want the maximum protection that I can get. I also plan to purchase a set of solar panels and a high end inverter/charger for the unit. I would like to be completely independent of any hookups being required. With the inverter it is a good idea to get with your dealer and make sure that you have enough battery power for such a setup. You many want to add a couple of 'deep-cycle' batteries to the two that come with the unit (in our case). This is the most expensive alternative way to go but in our case it is my particular concern. We also set up the service box at home for the RV electrical connection.
---
Plumbing - Sewer hookup, water hookup
Rig - Basic additions to the unit itself you may want or need
Kitchen - When you fix something to eat it's just like at home with the same needs
Outside the RV - What you'll need to enjoy the great out of doors while RVing
Entertainment - Electronic or old fashioned...
---
© 1998-2002 Roy Timberman
All trademarks are property of their respective owners.
www.timberman.com