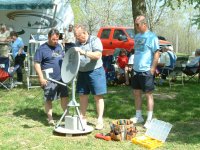 Easy Setup?
What you'll find here are the RVing experiences of Roy and Carol... Our goal: Enjoy seeing America with our family and friends! Treat this web page as an adventure in RVing. There are literally hours of enjoyment to be had just searching the links and the information available. If you have any suggestions, please don't hesitate to email me.
Our page will include hints, suggested necessities, and some startup help for the new RV enthusiast! I'll try to give you a list of necessities and a list of 'extras' that make life easier, along with a list of expensive dream world items. I'll also try to let you know what Roy and Carol ended up with. This is not an attempt to befuddle you with a vast amount of information... thus scaring you away from RVing. It is just a simple fact that the initial purchase of your RV requires some additional equipment to get full usage out of it, much as with any hobby you might choose. I've added a guestbook and an area for guest submissions. Let's all join in the fun!
Each RVer must set up their unit to fit their needs. A wonderful world in which all of us can get exactly what we want and need to have fun RVing.! Things I hope to cover include but are not limited to startup equipment lists w/suggestions and manufacturers part numbers, equipment costs and fuel costs. Various items to be covered will be relative to the rig itself, electrical and plumbing requirements, accessories for a camp experience around the rig, towing your vehicle, food stuff, and of course the pure luxury of it all! We might even get into camp sites around the US and their facilities and other camping experiences available to the Midwest crowd, camping clubs and other family experiences. Time will be the key factor in what I can present... In all cases it is appropriate for you to consult with the appropriate experts in the business to help you get going. My offerings here are only suggestions and reports on what I've found in my RV experience.
Please note that as with all businesses the suppliers and manufacturers are in business when I have put up the link to them or mentioned them in the text. I at no time am a representative of any of these companies or products. In many cases I've never seen the product but simply want to make the information available for you to decide on your own if it is the product you want or need. You must make your own 'deal' on the product since I cannot do it for you. My advice is to be very cautious when advancing money for any product that you see here or in other places. I am assuming that these companies/individuals are reputable but cannot assure that. You cannot purchase products of any kind on line here or through here. I don't sell these products.
I'm trying to give you some help on where to get the products and what I might suggest you get. They will show up as a site with a line under them and they'll be in some other color than the other printing so you can pick them out. Just click on them to go there. A separate browser will be opened with the new site on it. Pages that are part of my page will simply open a new page in an existing window. Again, these are only suggestions. Remember, there are many solutions to your needs. All of them cannot be presented.
I recently have acquired the domain name rvaid (.net/.com/.org), which are now pointed toward my web page here at Roy's RVing. I will be using subwebs, designed and updated by other individuals, under the RVAid names to provide additional information to assist you with your RVing.
Link information has been given on a best available at the time of web development. EMAIL me with broken link information if you find one.
Web page development and display space a courtesy of Sound.net (www.sound.net)
© 1998-2002 Roy Timberman
All trademarks are property of their respective owners.
www.timberman.com