| | |
| --- | --- |
| | This page was last edited 09/18/02 |
Equipment manufacturers are listed here to help you find products and service for your equipment. These listings should assist you with such things as models available and service/contact information. Dealers for their products are probably available locally with information through the web site. Some of these manufacturers sell directly to the public. (Be sure to check the publications page for links to other products offered for your RVing experience. You'll find dealers and other resources there.)
A&E Systems

RV awnings and accessories. Owned by Dometic.
AcuGage is made by Snake River Electronics. Holding tank monitoring system. OEM on some units. Retrofit on others.
Air Ride Hitch

Trailer hitches.
Alaskan Camper

The original telescopic camper.
AlertStar Corporation

Manufacturers of the SafetyAlert, Sapphire (wearable light), and other safety devices.
Alk Technologies - Transportatioin and Logistics Experts that make CoPilot (GPS System), PC MILER, FleetCommander, ETracker.
Ametek

water filters are a product of Culligan.
Atwood Mobile Products

For more than 60 years, Atwood Mobile Products has designed, developed and manufactured high quality appliances and engineered component systems for recreation and specialty vehicles, boats and towed equipment.
Automatic Engineering Mfg. Co.

manufactures the Blue Ox Tow System I use. Blue Ox also has some other products available... Solid as a Rock stabilizing jacks for 5th wheels, an RV Underskirt that will protect your car from rocks, mud, tar,etc. and a new weight distributing hitch. Check out their web site for information on these products.
Brake Buddy is a simple, effective, and inexpensive brake system for towed vehicles.
Brake Guard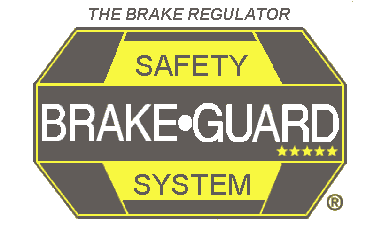 Brake Guard is a mechanical (non-electronic) 4 wheel safety system that converts a vehicle's existing hydraulic brake system to an air-over-hydraulic system automatically. The device installs easily under the vehicle's hood in 30 to 45 minutes.
Bullseye BULLSEYE Satellite dish mount.
B & W Custom Truck Beds makes a custom fifth wheel hitch that is up when needed and turned down when not needed.
Camco Manufacturing - Manufactures and distributes RV Accessories.

ChannelPlus

provides video/audio modulators and other TV hookup equipment. I find that using such to add a couple of channels to the off-air signal is an excellent way for everyone to see what they want to see.
Cherokee Electronics

produces various electronic products for travel, camping and professional use. Particularly nice are the family radio system (FRS) radios that they produce. They are small and very effective.
CMACM are manufacturers and distributors of 12 volt appliances. They seem to have quite a listing of 12 volt units.
Codyhitch - gooseneck and 5th wheel trailer hitches manufactured by Quick Hitch Inc. of Greeley, CO.
The Coleman Company

camping and RVing equipment.
Colibert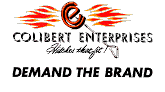 Since 1976 Colibert Enterprises has been directly involved in the towing industry. We Manufacture a full line of Class III and Class IV Hitch Receivers for Trucks, Vans, and Sport Utility Vehicles.
Comfortaire

is a producer of air mattresses for RVs.
Datron Satellite

manufactures some really nice satellite units. They were essentially the first to have the in-motion satellite available although there are several that have now followed their lead. I still like the Datron personally.
Demco
Trailer hitch and tow bar products.
Dexter Axle - Makes a kit for modifying the spring location on your trailer axle.
Di Blasi

folding motorbikes are quite the trick to take with you in your RV.
Dish-Pod

Satellite dish tripod for external setup of dish around RV. Want to make leveling it easier? Try buying one of those little circular levels that you see for refrigerators. They are about the right size to mount on the top of the Dish-Pod shaft and it does not affect the setup mount at all. You can then level the tripod before you try to position the dish.
Dinosaur Electronics - Manufacturer of high quality circuit boards for RV appliances.
The Dometic Corporation takes care of your RV refrigerators and freezers.

Draw-Tite

Draw-Tite is the world's leader when it comes to the design and manufacture or towing systems and trailer hitches. With over 10,000 locations throughout North America, wherever you live, work or play you'll find a knowledgeable and friendly Draw-tite dealer nearby.
Dual Dynamics

Produces a dual tire pressure equalization system.
Duo-Therm

RV air conditioning and heat pump systems.
Equalizer Systems
Auto leveling and stabilization systems.
Exeltech

Exeltech's mission is to manufacture technology driven inverters and related products to serve a broad spectrum of markets. To achieve superior quality, Exeltech utilizes 6-sigma design and manufacturing techniques.
EZHitch provides a hitch guide for easy centering for hookup.
EZ-Up

Awning.

Note that these shelters have accessories such as a screen kit and sidewalls that make them very adaptive. The model that I have comes with the sidewalls. I'll be buying the screens.
Fantastic Vent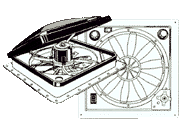 Recreational vehicle fans that are multi-speed, temperature controlled and even have a rain sensor to close them in case of rain.
Flexsteel

With Flexsteel's line of RV and marine seating, a weekend of travel or a day on the lake are as comfy and cozy as home. Tubular steel and hardwood construction, combined with luxurious designer appeal, create the ultimate in recreational seating. Shop and compare.
Generac Corporation

Generac has been manufacturing electrical generators and controls that provide emergency and prime power since 1959.
Girard RV
produces the armless awning. This is the awning with the wind sensor on it also that retracts the awning in a high wind protecting your investment.
Heart Interface

Heart Interface offers the finest in DC to AC power inverters and instrumentation. Select the market that matches your application.
Hensley Mfg., Inc.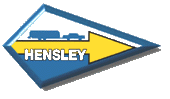 Manufacturers of tow systems.
HWH Corporation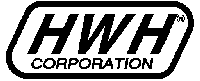 manufactures leveling/stabilizing systems and slideout mechanisms.
Intelligent Sensors produces CO alarms. This is a brand I had not seen before. May well be a viable option. Doesn't appear to have much of an aesthetic value though.
Invertrix

Power inverters as the name indicates.
Jordan Research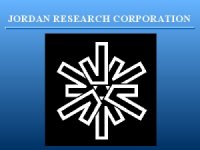 home of the Jordan Brake Controller.
Jordan Research Corp.
6245 Clark Center Ave. Unit C
Sarasota, FL 34238
1-800-533-0306
1-941-925-1029
Kenwood Electronics - Manufacturers of FRS radio systems and other electronics.
KVH

Makes satellite receiving systems. Has a new in-motion system out for RVs.
Lange Brake exhaust brake for you Powerstroke can be found here.
Lock Right Differential Locks for 4WD Jeeps.
Maytag - Now makes RV stoves. Sealed burners and non-rattling grates.
McKesh Mirrors can also be found here on the Hensley page.
Motorola

produces a wide variety of electronics. The FRS radios they have are an excellent choice.
Onan
Onan, the most popular name in quiet and reliable RV GenSet power, designs gasoline, LP and diesel GenSets specifically for RVs from trailers, to small campers to luxury motorhomes.
Overbilt Lifts - Motorcycle lifts for the rear of your motorhome.
P & E Industries Inc. manufactures and distributes towing systems and accessories.
Pace Edwards offer the most innovative and stylish truck accessories available, like the Roll-Top-CoverTM and the BedLockerTM electric retractable cover.
Phase Four Industries

produces an electric sewer valve.
The Popcorn Fork is an interesting little invention. Sit around eating popcorn and you won't get your fingers dirty.
Portable Porch - Produces an alternative to the conventional screen-mesh zippered enclosure.
Progressive Industries, Inc. - Producer of electrical management systems. They are located in Cary, NC at
414 Airport Blvd., Morrisville, NC, 27560 1-919-462-8280. Particularly they produce an electrical protection device for 30 amp and one for 50 amp RV connections. They are made in both portable and hardware installed versions. I am unaware of any web presence.
Protect All - Slid-out rubber seal treatment, slide-out dry slide, and other such products.
Protect-A-Tow - Rock and debris guard that mounts between motorhome and towed vehicle.
Pullrite

Trailer Hitches... another popular brand of hitchs and accessories.
Reese

The nation's leading manufacturer of towing systems, including standard and custom hitches, electrical hitch products, and accessories.
Remco Towing Products

Particularly a product that will disconnect the driveline on a two wheel drive vehicle for towing behind your RV.

Rec. Equip. Manuf. Corp., 4138 S 89th, Omaha, NE 68127, tel: (402) 339-3398, fax: (402) 339-6552 Products: Drive Train Disconnect, Electrical Equipment, Hitches & Hitch Equipment, Tow Bar and Equipment, Chassis

RoadMaster

Trailer Hitches and tow bars.
Rotochoks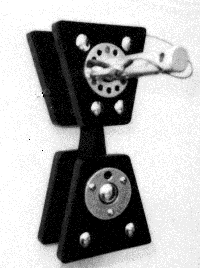 These are a top quality tandem wheel locking unit. They look good and they work good. Definitely high end stops for your unit. Rotochok, Inc. 396 Hayfield Rd, Harrington, DE 19952, 1- 302-284-8996 Note: You'll want to know the distance between your wheels/tires so that you can get the correct size. There are several available.
RV Sani-con

A product to assist in dumping your holding tanks in a clean efficient manner. Basically a macerator that pumps the results out to a dump site.
SeaLand Technology, Inc.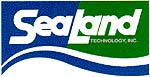 Plumbing fixtures, particularly toilets.
Select Comfort

is also a producer of air mattresses for RVs.

Recreational Vehicles Air Sleep Systems... Now you can take the personalized comfort and support of a SELECT COMFORT® Air Bed when you camp or vacation. If you own a recreational vehicle, we offer an air sleep system that will conveniently fit its sleep area. After a full day of activity, be it hiking, fishing or simply driving to your campsite, nothing beats "sleeping on air" to re-energize your body for another day of fun. Mattress sizes range from single to king. Foundations are not required for recreational vehicles.

The Sewer Solution is a new idea to handle sewer dumping needs. See my plumbing page for additional info.

SHURflo

Since 1968, Shurflo has produced small high performance pumps and fluid handling equipment for the Beverage, Food Service, Recreational Vehicle, Marine, Industrial and Water Purification Markets.
Shurhold Industries - produces a line of handcrafted, soft-bristle brushess that are designed to clean motorhomes and other vehicles while helping to protect the vehicle's finish.
S. King Company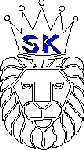 Distributor of mobile electronics, electrical products.
SmarTire USA Inc

has a new tire inflation/temperature monitoring system for your RV. Keeps you up to date while you're in motion. The second generation of these products has been released by Smarttire and now supports up to 20 tire positions. With that many... why not monitor the spare tire also and that way if there is a failure you're really ready to go?
Statpower Technologies Corporation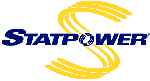 Power solutions. Manufacture electrical power products.
Stowaway II

is wheelless solution to storing extra gear using the 2" receiver.
Suburban Manufacturing Company Subsidiary of Airxcel, Inc.

Surgeguard - The Surge Guard Line of RV Power Adaptors are Guaranteed to Protect Your Motorhome from Faulty Park Power! Electrical surge protectors and hookups.
Swagman

bike racks. Bicycle racks for all occasions. Class 3 receiver racks, spare tire mounts, bumper mounts, etc.
Swiss Shade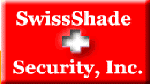 RV awnings.
TDI Products

Power hose and electric reels is their focus.
Tekonsha

towing systems. Brake controls for towing.
Torklift

manufactures camper accessories, including some hitch accessories.
Trace Engineering

Inverter manufacturer.
TrailairTM fifth wheel hitch accessories that incorporate air ride and shock absorber technologies in the hitch. 1-800-253-2001 1-800-998-4238
Transfer Flow

(http://www.transferflow.com/) fuel tank specialists.
Trojan Battery

manufactures those deep-cycle heavy duty batteries RVers use. The Stowaway available at Sam's is manufactured by these folks.
Ultra-Fab Innovative Products

Ultra-Fab produces products for many areas but these products are particularly related to the RV & Trailer Industry: Ultra-Fab produces innovative products that enhance reliability, convenience, savings and comfort, within the RV, CARGO, HORSE and SPECIALTY trailer industry.. We lift, level, stabilize, move and tow. We service the Oem and Aftermarket with wheel chocks, tailgates, wind deflectors, jacks, stabilizers, tow dollies & tuggers. Our brand names are: KARTOTE, TRAIL-EZE II, POWER TWIN, CHOCK-N-LOCK, POWERMOVER.
Valterra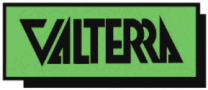 makes a variety of products for RV sewer systems. There's not much info on their web page... it needs to be expanded severely.
VDC Electronics - Battery charger, maintainer, conditioner/de-sulphator needs and information.
Wheel Wedge

is a product that could come in handy for parking your RV.
Winegard

provides satellite systems and off-air antenna support for your RV.
Workhorse Chassis

is the new Chevrolet chassis for RVs.
Wrangler NW

has battery boxes for your RV. They are also an automotive parts rebuilder.
---
© 2001 Roy Timberman
All trademarks are property of their respective owners.
www.timberman.com